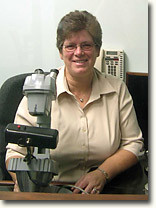 Florence Kimberley
Graduate Gemologist
613-546-2261
Florence Kimberley values the trust extended to her by each client. Her professional background and thorough attention to detail when examining your gems and jewellery ensure she provides accurate appraisals and consulting.
Florence is a graduate of the Gemological Institute of America (GIA). As a graduate gemologist, Florence adheres to the highest standards for testing, lab equipment, and appraisal methodology.
---
To determine the value of a piece of jewellery such as an engagement ring or estate jewellery
To estimate the cost of producing, acquiring, or altering a piece of jewellrey
To determine monetary damages to a piece of jewellery
To forecast your potential revenue upon sale of your jewellery
Appraisal Updates
Do you have an outdated appraisal? You may be under or over insured as gold, diamonds and coloured gemstone values change with market conditions.
Call Florence to discuss the benefits of keeping your jewellery appraisals current.
Please note at this time due to COVID-19 I am open by appointment only. Please email or call (613-546-2261) to make your appointment. Thank you for your understanding.