Estate Appraisals and Sales
Throughout my 30+ years working in the jewellery industry I have always had an appreciation for the older pieces that have come under my microscope. Estate, Vintage or pre-loved jewellery has an allure of both history and craftsmanship that lends them a timeless beauty.
As the gemologlst looking after the estate department at Kinnear d'Esterre I've found that many share this passion for older works and now in my own store I'm being met with the same interest. This has encouraged me to add quality estate pieces to my showcase.
It can be a beautiful Victorian piece or a more modern design, but each piece has a beauty and history all of it's own in addition to an affordable price tag. This is recycling at its best! Looking for something special? Drop by or contact me to see the wonderful pieces that are waiting for a new home where they be worn and enjoyed again..
---

Ring, set with diamonds
18K yellow and white gold cluster ring set with diamonds weighing a total of 0.80 carat.

Ring, set with diamonds and tourmalines
14-18K yellow and white gold ring set with two round brilliant cut diamonds, total weight of 0.90 carat and six round faceted tourmalines.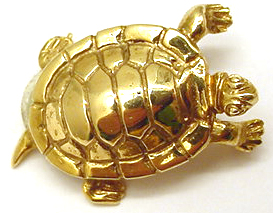 Gold Turtle
For those who love turtles, 14K yellow gold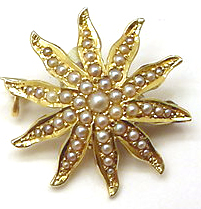 Sunburst Brooch
Sunburst brooch with hidden pendant bail made from 14K yellow gold and set with seed pearls.
Pearl Brooch
Seed pearl brooch made with 14K yellow gold.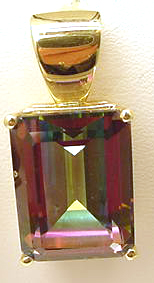 Mystic Topaz
Mystic topaz showing vivid purple and green in 14K yellow gold setting with a wide pendant bail.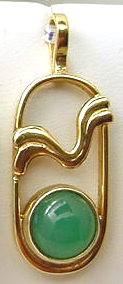 Gold Pendant
18K yellow, green and red gold pendant set with one round cabochon chrysoprase.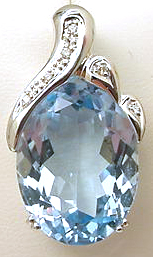 Gold Pendant, with Blue Topaz
14K white gold pendant set with one oval blue topaz and six full cut round brilliant diamonds set into the design of the bail.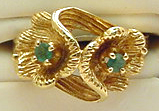 Emerald Gold Ring
10K yellow gold ring with emeralds set in centre of floral design.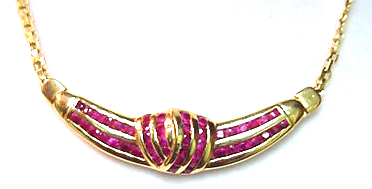 Ruby Necklace
14K yellow gold ruby set necklace.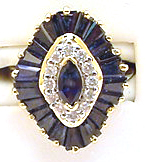 Ballerina style cluster ring
14K yellow gold sapphire and diamond ballerina style cluster ring.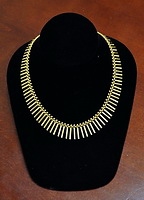 Cleopatra Necklace
18K yellow gold Cleopatra style necklace.